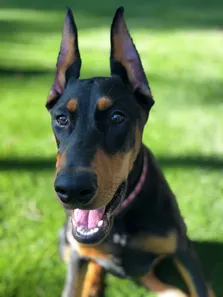 Eartrims/Tail Docks/Dewclaw removal
We offer eartrims on a variety of breeds including but not limited to Dobermans, Boxers, Pit Bulls, and Schnauzers. Surgery is best done around 10 weeks of age or 10 pounds; but depends on the breed.
Click here to see some of Dr. Bassham's eartrims
PennHIP

Our office offers PennHIP examinations and certification. Dr. Bassham is certified to take PennHIP radiography. This exam technique was developed at the University of Pennsylvania School of Veterinary Medicine with the goal of reducing the prevalence of hip dysplasia in dogs.
We also offer OFA hips and elbows radiography. The OFA grading system assesses the severity of hip and elbow dysplasia symptoms in dogs. The result of an OFA screening is either Excellent, Good, Fair, Borderline, Mild, Moderate, or Severe.
Orthopedic Surgery

Fracture repair for selective cases